The CRMA is only accepting Corporate Rentals at this time.
The Cedar Rapids Museum of Art offers the ideal setting for corporate events or meetings. Docent-guided tours are available to enhance the experience of any special event. In addition to an unique location, your guests can shop in the Museum Store for a variety of items and creations from Iowa. Rental fees vary depending on the rental space and number of guests. Please fill out the rental form to request information or contact Kimberly Machovoc-Smith at 319-366-7503 x 211.
Carnegie: The Main Floor Carnegie Building is an ideal setting for a special event. Beautifully restored, the ceiling is supported by detailed cherry pillars. Leather chairs and fine wood furniture surround the fireplace for relaxing conversation. Plaster reliefs embellish the walls and art books line the shelves. Your guests enter the Main Floor Carnegie Building through an impressive, two-story solarium of lush plantings, the Quarton Atrium. Standing capacity depending on set up is up to 400 people. Seated capacity depending on set up is 144 people.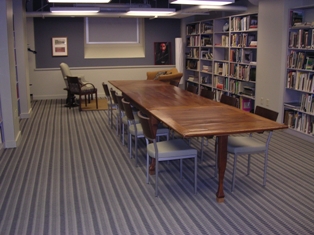 Stamats Library: Need a small group meeting space? The Stamats Library is private and promises to provide a stimulating environment, inviting interaction and discussion. Located on the lower level of the Carnegie Building, this meeting space is easily accessible. The board table seats 12 comfortably and is a full day rental only.
Auditorium: Large windows overlook the floral plantings of Greene Square. Detailed molding and wood flooring adorn the room with a curtained stage and adjustable lighting. The Auditorium is located on the second floor of the Carnegie Building and is accessible by stairs or an elevator. A convenient handicapped accessible entrance on Second Avenue through the Museum's Education Entrance is available. Seating is theater style and can accommodate 120 guests.